Free U.S. Shipping on orders over $75 (no code needed)
YOU DESERVE TO THRIVE WITH BABY - WE'RE HERE TO HELP
Our baby gear blends fairytale whimsy with flexibility & convenience so you can live happily ever after (for real!)
We believe that happier parents raise happier kids which leads to a happier world. Our baby gear is beautiful and vibrant but it's also designed to be useful and convenient so you can actually feel like the super mom that you are.
We invite you to throw off the struggles that come from gear that leans on tradition or trends - get ready to embrace the magical babyhood experience you deserve.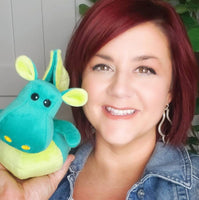 BABYHOOD IS MESSY...IT TAKES A DRAGON TO MAKE IT EASIER!
Hi - I'm Ashlei! My mom and I designed the Dragon Squire™ plush toy to do more than just look cute. We wanted baby to love it AND make Mom's life easier with the handy snap-together wings.
The wings easily snap around:
• stroller belly bars
• stroller side bars
• carseat carrying bars
• activity mats
• anything less than 3.5" in diameter
...keeping it in front of baby and off the ground. Less dirt and germs and less hassle for YOU!
OUR DRAGONS STAY PUT TO DELIGHT BABY (& MOM GETS A BREAK!)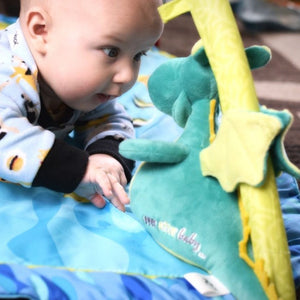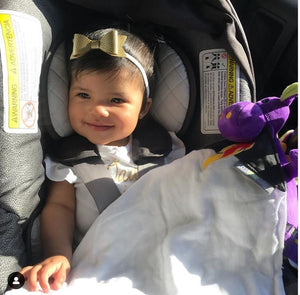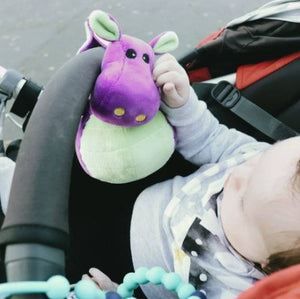 A TOY WITH SKILLS - OUR DRAGON SQUIRES™...
ARE SO FUN TO HUG

We gave our dragon velvety soft texture that will dazzle baby's skin. We use only high quality fabrics that are professionally sewn for durability.

ARE DESIGNED FOR BABY'S DEVELOPING SKILLS

We made sure there was a variety of big and small features that are perfect for small hands to grab onto and discover.

WORK WITH OUR DRIBBLE SHIELD™ CLOTHS

We gave it an adorable nose- that holds the Dribble Shield™ cloth. Just slide the elastic loop over the dragon's nose for a snug hold.

KEEP PARENTS FROM PLAYING GROUND PATROL

We added snap-together wings so the toy (and cloth) can easily attach to a stroller, carseat, activity mat, etc. and stay in front of baby (& off the ground!)

HAVE BEEN SAFETY TESTED

We wanted to make sure everything about our Dragon Squires™ was safe to use around your little ones so we arranged for 3rd party safety testing. Our Dragons are made with high quality materials and professionally made by hand to ensure durabilty.
WE LOVE THAT YOU LOVE DRAGONS TOO!
"The Dragon Squire toy is her favorite! It's so soft and easy for little hands to hold, and his wings can be snapped together which is great so he doesn't fly away when we're in our stroller! Great toy!"

@ky_n_kenz
"We LOVE the dragon squires! The girls love to play with them and I love that I can clip them on the stroller and they hold the burp towel. No more fumbling though the diaper bag looking for one, with the dragon squire you always have it on hand, ready to go."

@megslov3s
"Absolutely love your products! My daughter takes her dragon squire and owl teether with her everywhere. The quality of everything is amazing, even down to the box it comes in! If you're looking for super cute and functional baby products."

@ashleyw610
And Every Dragon Includes A Dribble Shield™ - A Cloth That Makes Life Easier With Baby In So Many Ways.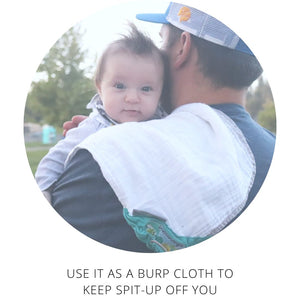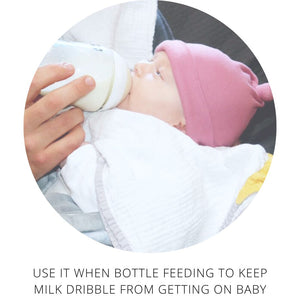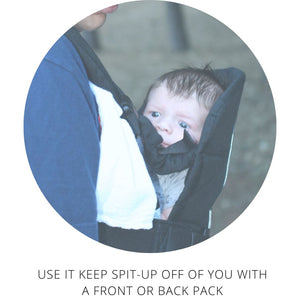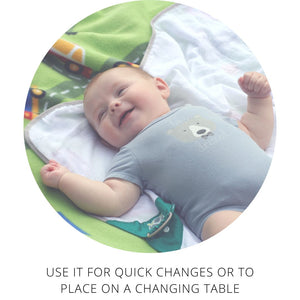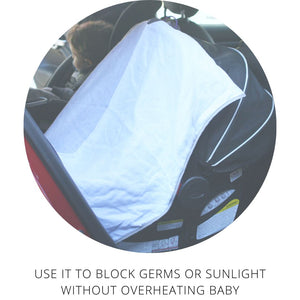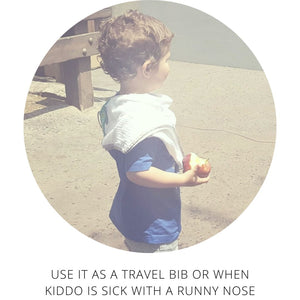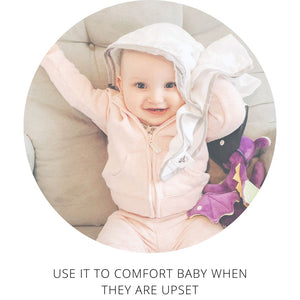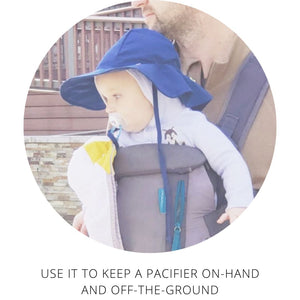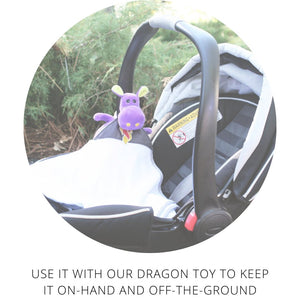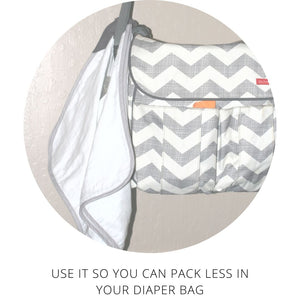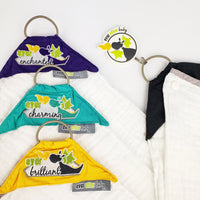 OUR LOOP & SNAP PRACTICALLY DO THE WORK FOR YOU!
"Can't I just use a swaddle blanket or a towel?"
Sure - you can, but it won't be as easy. We designed our Dribble Shield™ cloths to be your favorite go-to baby gear item because it takes the over-thinking and over-packing off the table.
The LOOP lets you hang it where you need it - like on your stroller or a hook by the door. Plus you can attach it to a pacifier!
The SNAP lets you quickly change the size to match the task at hand and lets you attach it to a diaper bag, belt loop (hello Dad!) or belly bar so you don't have to hunt around in your diaper bag.
WHAT CUSTOMERS ARE SAYING
"Hands down the BEST burp clothes out there! These are very versatile and we use them for everything! I've donated all my other burp clothes and I'm not looking back!"

CristiLee
"Who said burp cloths are just for babies?! These can be used in various ways. I personally use them for a hanky. As we are in pollen season, my allergies are out of control. But with my dribble shield it helps my nose stay clear. I love that it is very large, durable and can snap around my neck as if I'm a super hero with a cap while fighting off pollen."(Kayden, age 4)

Kayden J.
"This is an amazing burp cloth, mini blanket, super soft cleaner upper! The dragon squire is seriously the BEST ever. I am not kidding. I love that it holds these amazing dribble shields which have been perfect for my son's reflux."

Alyssa C.
FAQ'S
Your questions...answered!
WHAT KIND OF FABRIC IS IT?

The body of the cloth is made of super absorbent muslin cotton that is breathable, fast drying, lint-free and soft against sensitive skin.

ARE THE CLOTHS EASY TO CLEAN?

Yes! Machine wash with your other baby clothes (use stain treatment as needed) - then dry on low-heat or hang dry.

IS IT SAFE FOR BABY?

Everything has been designed and professionally safety tested for durability and use around baby (always supervise).

HOW MANY DO I NEED?

We sell our Dribble Shields in packs of 2 which is perfect for trying them out. However we recommend at least 6 so you don't have to do laundry every day and can have them handy in more than one place.

WHY IS THERE A WALL HOOK INCLUDED?

We want you to be able to hang your cloths where you need them most - whether it's in the nursery, family room, kitchen or near the front door. The self-adhesive hook lets you hang them anywhere!

WHAT IF I DON'T LIKE IT?

We are confident that you will love your Dribble Shields - but just in case, we honor returns and exchanges for 60 days after receipt.

WHY IS IT WHITE?

We chose to keep our cloths white to help keep it free of harsh chemical dyes and to make it easy to spot clean.
RESOURCES TO HELP YOU
This countdown trick will help save you from meltdowns on a daily basis. This is your 1 minute mom-aid tip! Take a moment and imagine that you're binge watching your f...

Are you heading out to the beach with your young children? Let's make it more fun and less messy by packing some key essentials with this handy guide. Please note: we ...

It's summertime which means it's a great time to refresh on water safety with these 4 tips! This is your 1 minute mom-aid tip Babies and children love the water but it...
ROYAL TREATMENT
Every box is hand-packed with care
ORDERS OVER $75
ship FREE in U.S.
100% SATISFACTION
60 day returns & exchanges